With each new version of the Analyzer software it gets better and more feature rich, and version 2022.3 is no exception! This list highlights some of the changes. For a full list of release notes click here.

Driving Instructor
Get instant AI feedback on your laps so you know where and how to improve. There is no better way to get faster. You'll see the lap displayed over aerial views of the circuit and will see exactly where your car is located on the track. The AI Driving Instructor will tell you how to improve with easy to understand visual. See this page for more information.

Math Channel Options
The Math Channel Dialog now supports Cut/Copy/Paste/Select All/Undo commands for the formula text area. These are the standard Windows commands of Cut (CTRL-X), Copy (CTRL-C), Paste (CTRL-V), Select All (CTRL-A), Undo (CTRL-Z). You can also right click on the formula text area to view a popup menu and access these commands. The Undo option goes back up to 20 iterations.

Flagging Invalid Laps
In the Open Lap Dialog on the Laps From Other Drivers section an exclamation point will be displayed to the left of the car name if any of the following conditions are met: the lap is invalid; the lap started or ended in the pits; there was a yellow flag during the lap. If you put the mouse over one of these laps you will get a full explanation of why the exclamation point is being displayed.

Easier Layout Access
There is now a Layouts object that can be incorporated into your layouts. This is available by going to Display->Show Layouts. This displays the Layouts object on your layout. All current layouts are listed in the Layouts object. Double clicking on the name of a layout will display that layout.

You can also change layouts from the drop down at the bottom right of the screen, providing another quick way to changing layouts.

Creating/Moving Sectors
Sectors can now be created or moved if you have a Track or Pro license. To add a new sector CTRL-shift-double-left-click on the desired location within a trace. To remove a sector, CTRL-shift-double-left-click on the sector line within a trace. To move a sector CTRL-shift-left-click and drag the desired sector line to the left or right within a trace.

Multiple Lap Histograms
You can now choose to have the histogram average all displayed laps. This requires a Track license or higher. You can select this option by right-clicking on the histogram and making sure 'Average All Laps' is checked. When enabled all laps that are displayed in the traces will be averaged when displaying a histogram.



From $24.99!


Driving Instructor: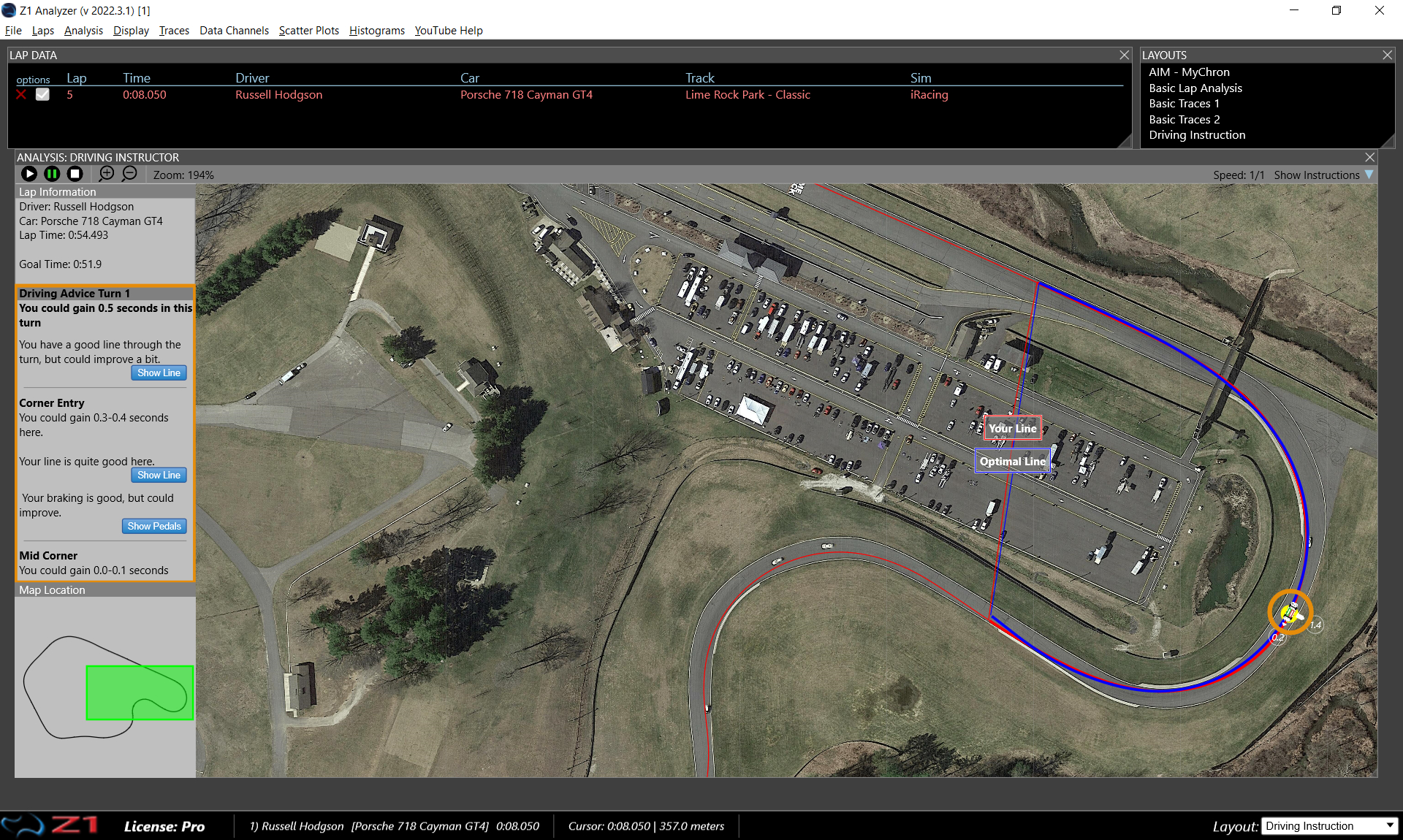 Math Channel Options: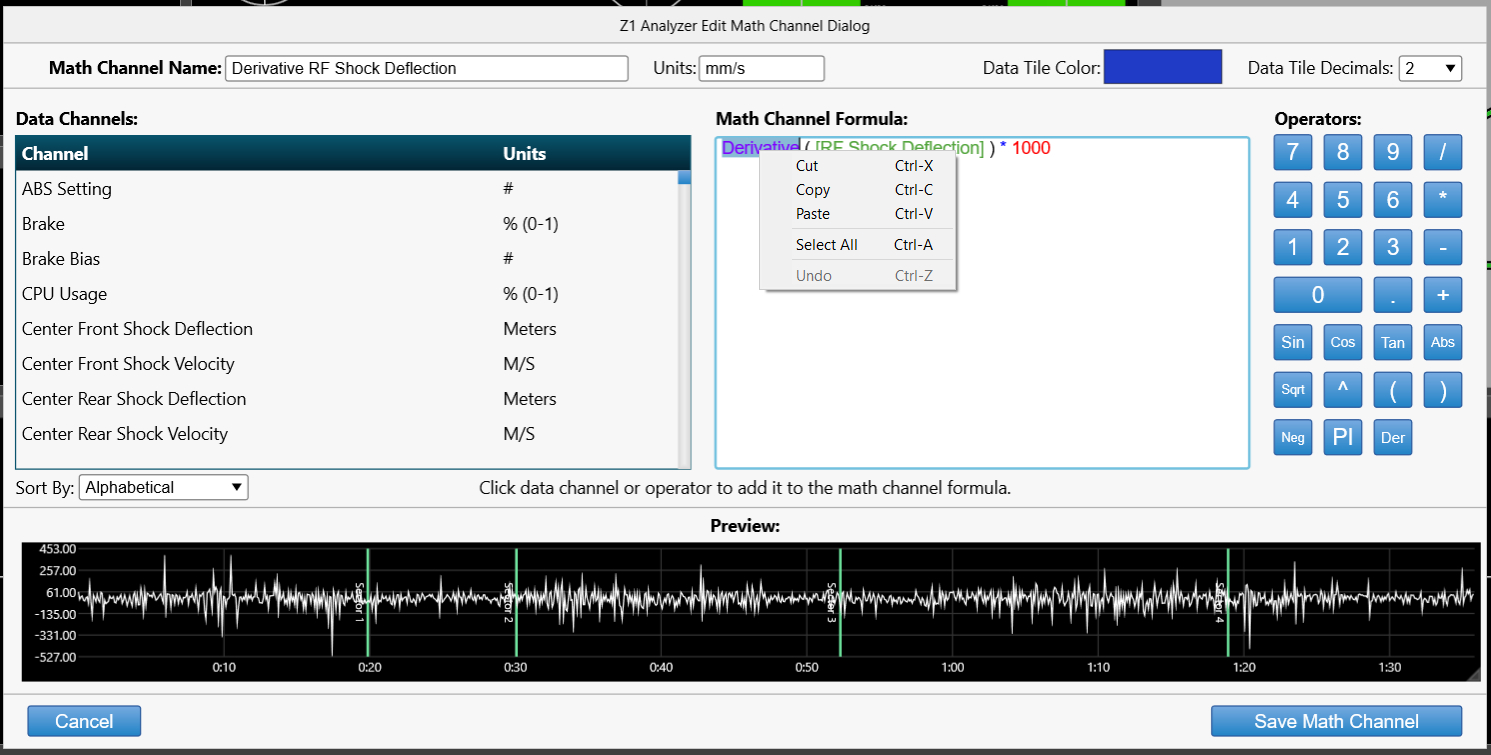 Flagging Invalid Laps: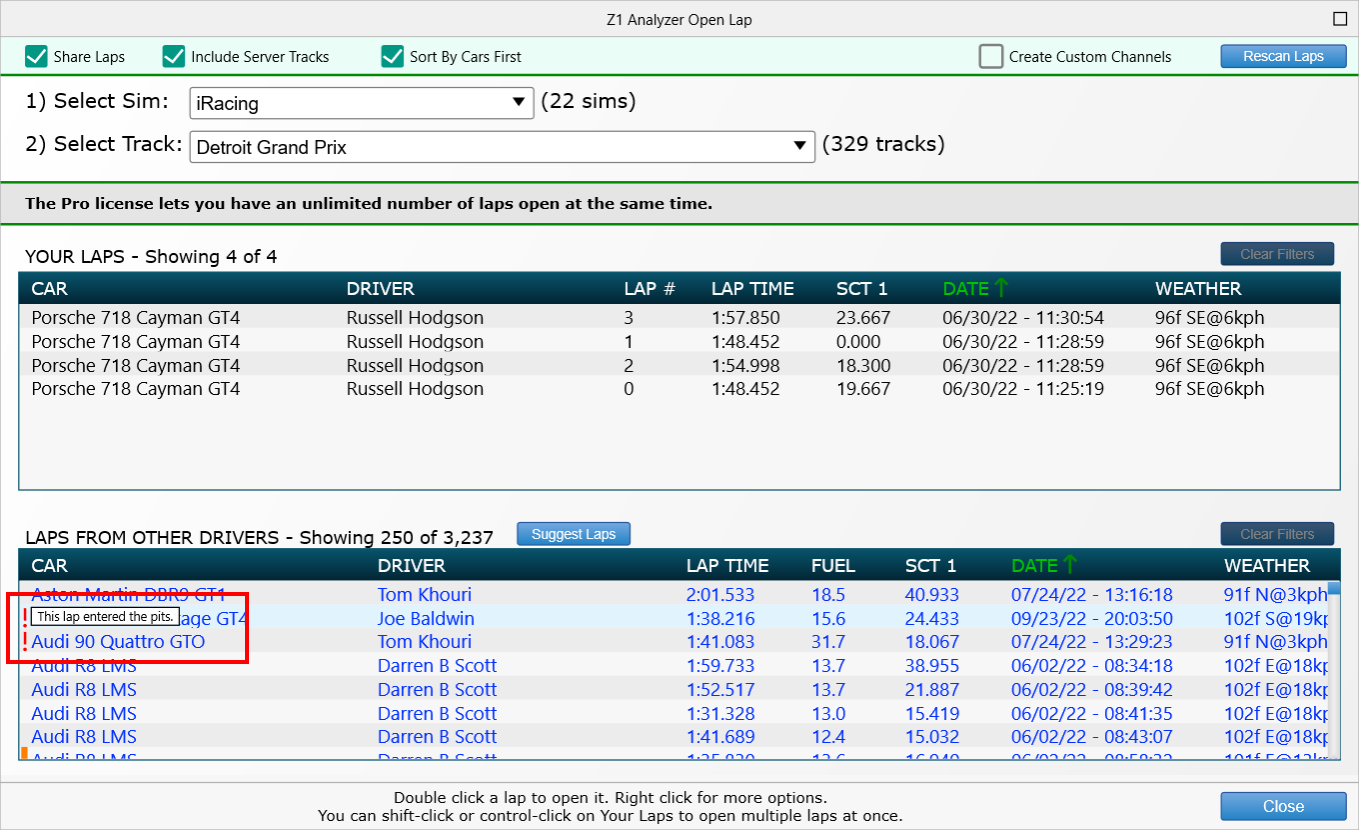 Easier Layout Access: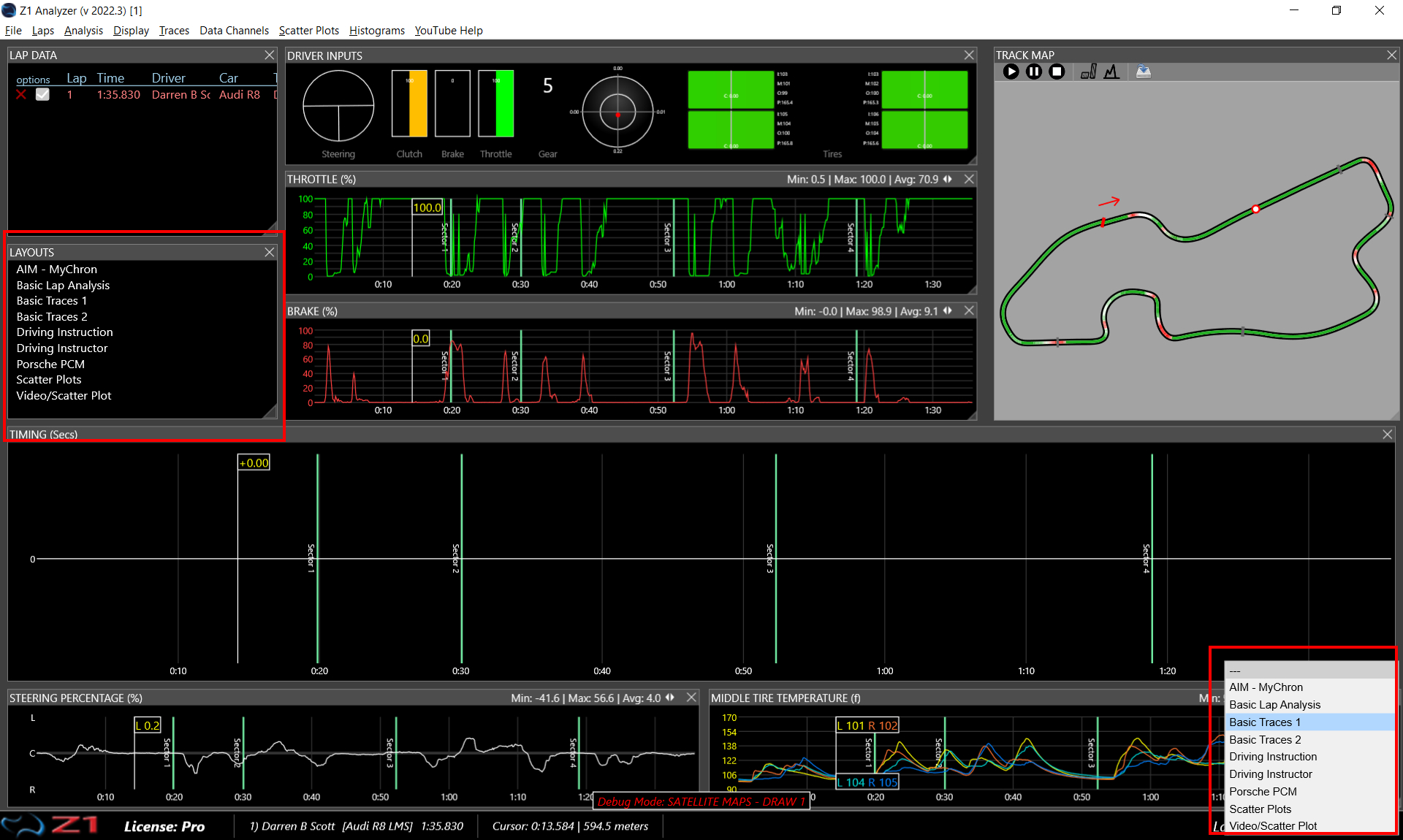 Creating/Moving Sectors: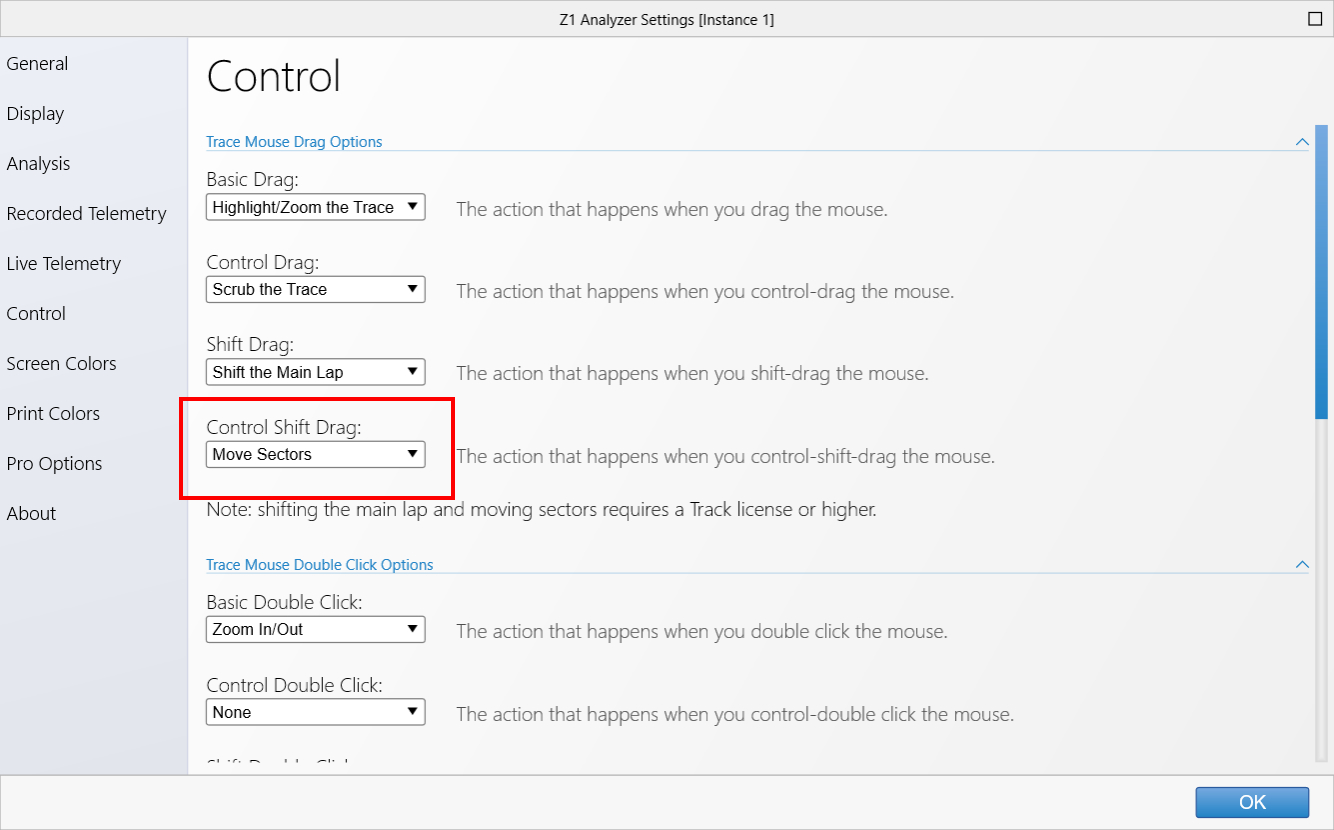 Multiple Lap Histograms: