With each new version of the Analyzer software it gets better and more feature rich, and version 2021.2 is no exception! This list highlights some of the changes. For a full list of release notes click here.

Custom Data Channels
You can now create your own custom channels for use within the Z1 Analyzer. These channels can be use in traces, math channels, data tiles, scatter plots and histograms. They can be used to import data from external sources, or from ibt or zodx files that contain data channels not included in the Z1 Analyzer channel list.

They can also be used to stream live telemetry from external sources using the UDP feed.

RaceChrono Compatibility
For all our track day enthusiasts, the Z1 Analyzer is now compatible with RaceChrono. After recording your lap data with the RaceChrono app, you can export it using the Z1 Analyzer option in the RaceChrono app. Then in the Analyzer, import that data to use all the tools within the Analyzer to view and examine your data.

Live Telemetry Data Logging & Track Maps
You can now record telemetry data during live telemetry. Live telemetry can now also automatically generate a track map when running in any sim except iRacing. (iRacing does not provide the necessary data to create the track map.)

Get Paid For Your Setups
You can now optionally upload your setups used when running your laps. Others will be able to download your setup. For each download you will be paid $2.00. This is entirely optional. When you open your lap you'll see the optional setup upload dialog. Alternatively you can go to the File->Upload My setup menu option.

Fuel Levels Displayed in Open Lap dialog
The starting fuel level of a downloadable lap is now displayed in the open lap dialog. This lets you more easily find a lap that is closest to your own lap in fuel levels.



From $24.99!


Custom Data Channels: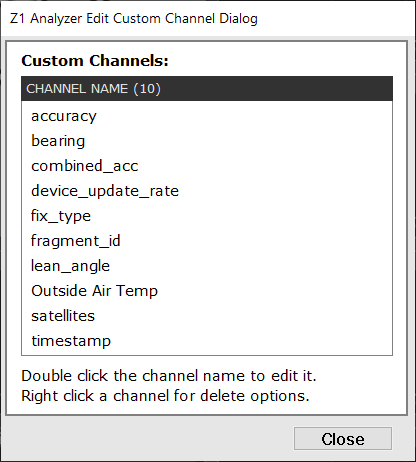 Auto Create Custom Channels: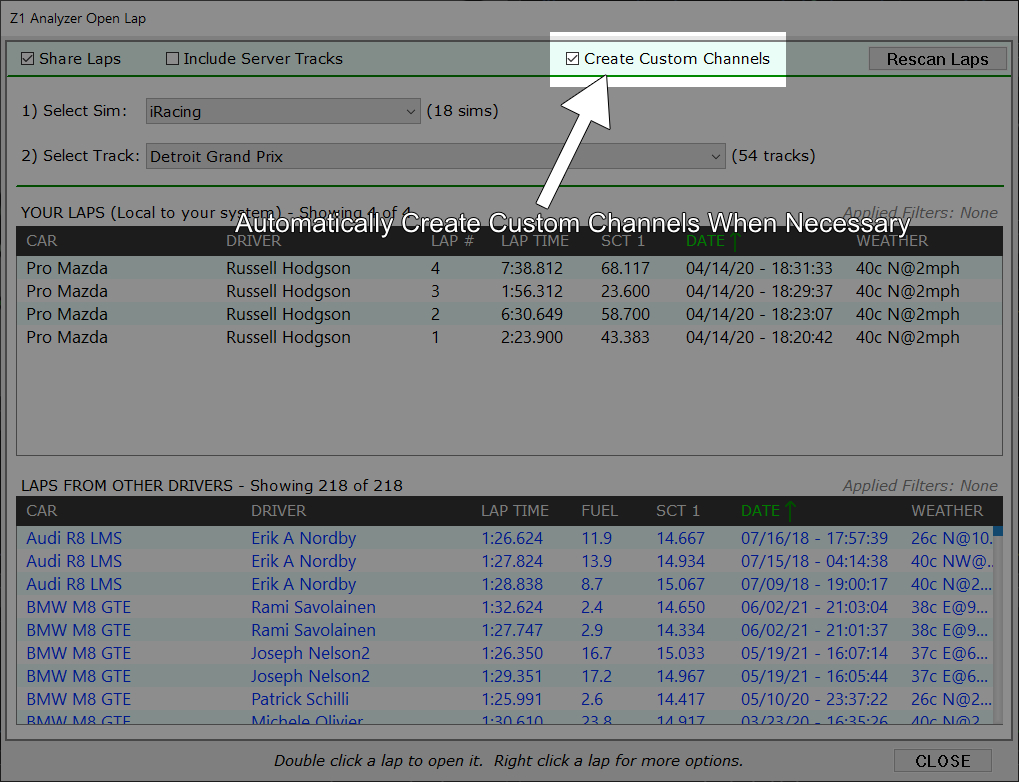 RaceChrono Compatibility: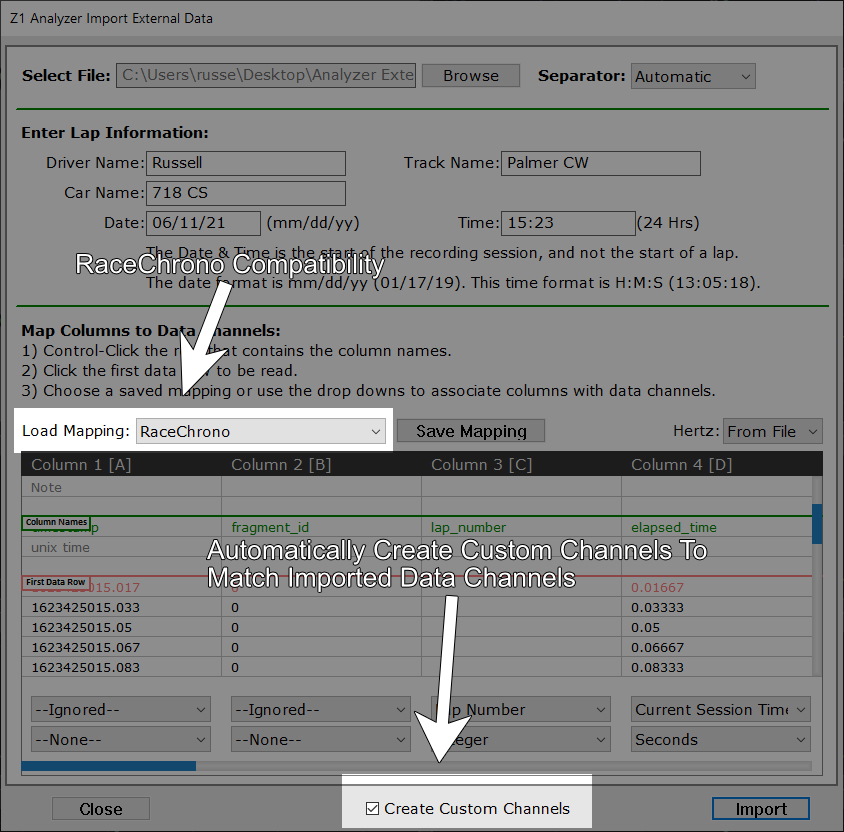 Live Telemetry Data Logging & Track Maps: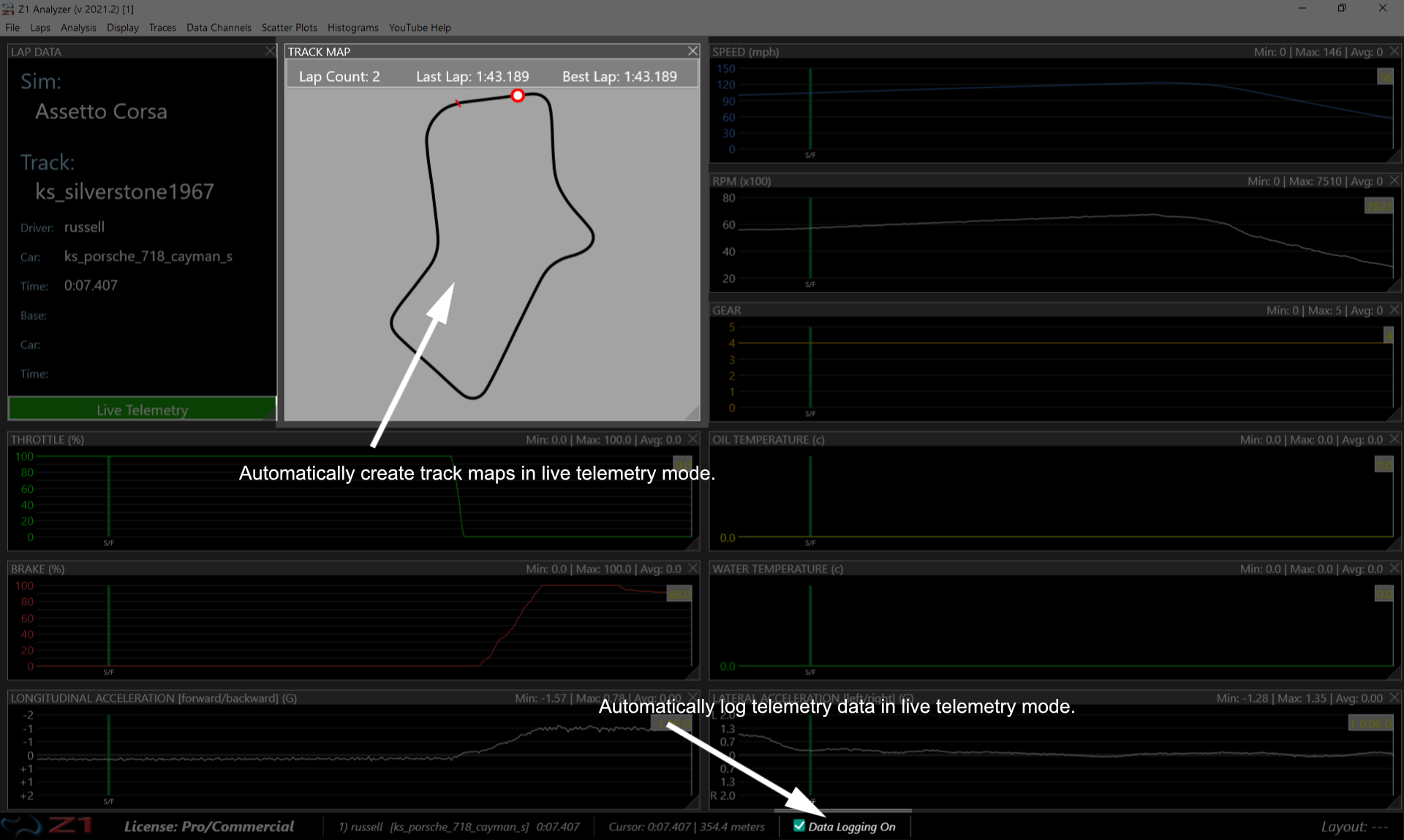 Fuel Levels Displayed in Open Lap dialog: